Arqum stands for work safety, quality and environmental management.
We advise companies, municipalities and rural districts, as well as government agencies in Germany and abroad on their way to a sustainable economy. To this end, we develop practical management concepts and innovative solutions in the areas of environmental and climate protection, sustainability, resource and energy efficiency, work safety, quality, and international cooperation.
We provide support to our customers based on trust and collaboration with great personal commitment, professional world-class services and a tailor-made project management that is oriented towards what is feasible. With our enthusiasm for sustainability issues, and a comprehensive consulting experience in almost all sectors and industries, we have committed ourselves to the lasting improvement of the competitiveness of our customers. The starting points for this are increased efficiency and productivity on the basis of economically attractive, as well as technically and organizationally feasible measures. In this way, we create sustainable added value for our customers.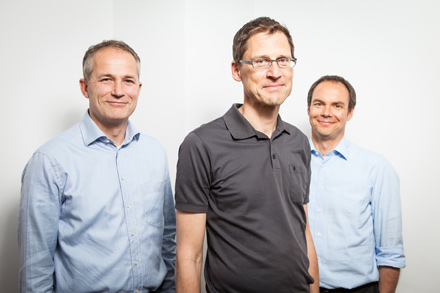 Jörn Peter, Christian Heinrichs, Dr. Uwe Götz (Managing Partners)
We develop solutions tailored to the individual needs of our customers that allow their staff to fulfil their daily tasks easier and better. In doing so, individual experience and motivation of the people are very important aspects for us – because even the best strategies are only effective when they are understood and actively supported by the staff. Our work therefore aims to develop in-house expertise for a constant and independent continuation of our consultation results. But even after a job has been completed, we can accompany our customers in the implementation of the developed measures and the selection of suitable implementation partners. We thereby access our extensive network of companies and experts from a wide range of areas – from environmental technology to project financing.
Our common professional goals have brought us together more than 20 years ago. Time and again, it fills us with great joy – and also a little pride that today our medium-sized consulting company with around 40 highly motivated and qualified staff is working on consultancy assignments throughout Germany and the whole world. The significant milestones on this path were:
Our ideals of professional as well as personal cooperation are important in our development. We are still working actively in a variety of projects and are thus always close to the issues and needs of our partners. This is an important prerequisite for us to achieve sound and sustainable business development. We will be pleased to help you if you wish direct contact.